Stay Safe & Check In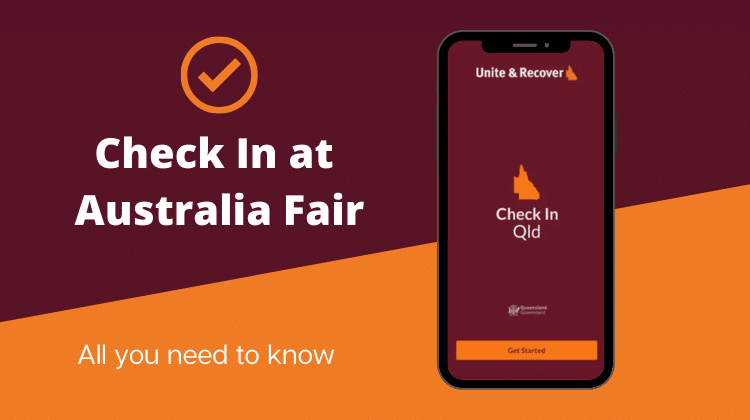 Australia Fair has Check In Qld QR codes displayed at each entrance to the centre and requests that all visitors check in prior to entering the centre. If you forget to check in upon entering or need assistance, please call our Customer Service team on 5556 6600. Alternatively our code 481669 can be entered manually as opposed to scanning the QR code.
FAQs
Why do I need to check into Australia Fair?
The Queensland Government wants to ensure it has thorough records of which public places people are visiting and at what times. This will enable efficient contact tracing if it's ever required.
What do I need to do to check in?
You will need the Check In Qld app. Once you have set up your details, you can easily check into any venue by scanning QR codes via the app. The app is free and it's really simple to use!
Download for Apple | Download for Android
What if I don't have a smart phone and can't check in?
Our team is here to help. Visit our Customer Service Desk located near Kmart to check in.
Do my children need to check in?
Yes, all visitors to Australia Fair should be checked in. The Check In Qld app gives you an option to check in dependents, so please use this function for your children and any elderly family members who are unable to do it themselves.
Which stores in Australia Fair will I need to check into?
As well as when you enter the centre, you are required to check in at our individual stores before entering along with our Food Court.
What happens with my data?
Data collected via the app is stored securely and deleted after 56 days. Australia Fair does not have access to any customer records.
If you have any queries, please feel free to contact our office on (07) 5556 6600 or via [email protected]