Trading Hours
Monday

9:00 am - 5:30 pm

Tuesday

9:00 am - 5:30 pm

Wednesday

9:00 am - 5:30 pm

Thursday

9:00 am - 9:00 pm

Friday

9:00 am - 5:30 pm

Saturday

9:00 am - 5:30 pm

Sunday

10:30 am - 4:00 pm
Sundays and Public holiday hours will vary. Please check with individual stores to confirm times.

Price Attack stocks Australia's most popular professional hair care, treatment, colour, and styling brands and products. Book in for a hair cut or treatment call 5528 3122.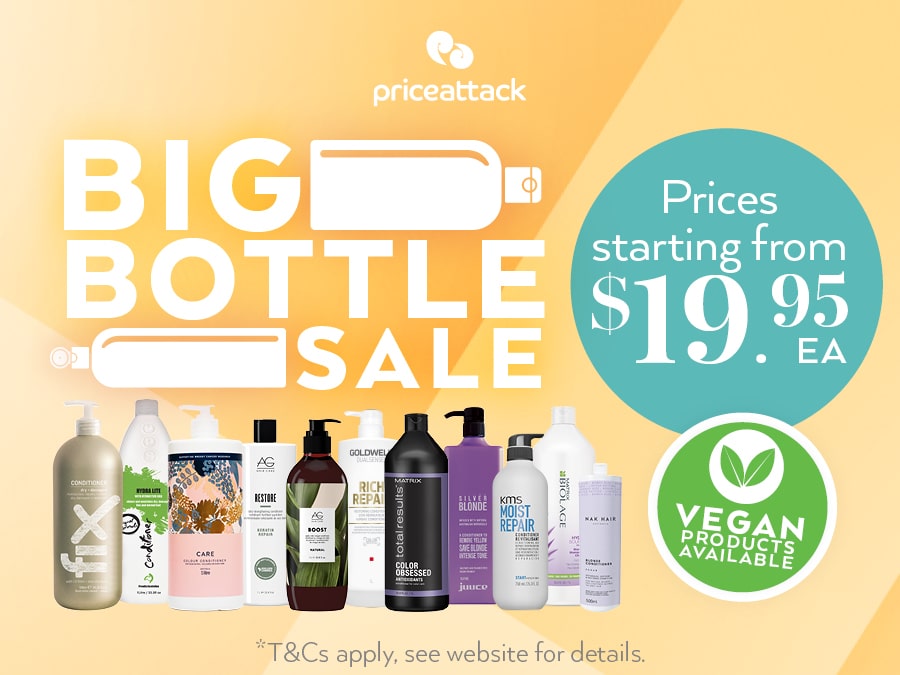 Big Value and Big Savings are back at Price Attack! We've got 1 Litre Big Bottles from $24.95. T&Cs apply.
Terms & Conditions: Cannot be used in conjunction with any other offer. Available at participating stores and online, from 13/01/2020 – 02/02/2020 or while stocks last. Certain products may not be available from time to time. Prices and savings are based on recommended retail price (RRP) when prepared and may change without notice. Prices may vary between Price Attack stores, regions, and states, and may not have sold at the RRP. Product information is provided to Price Attack by the entity providing the product to market. Price Attack reserves the right to correct printing errors and/or to cancel these promotions at any time without prior notice.